People Before Politics: 4 Key Points in HR19's Opening Ceremony
Harm Reduction International Conference 2019 in Porto, Portugal. The Opening Ceremony. Photo shows Naomi Burke-Shyne, Executive Director, Harm Reduction International, chair of the Opening Ceremony. Photo ©Steve Forrest/HRI/Workers' Photos
The Harm Reduction International Conference 2019 (HR19) has begun in Porto, with several influential speakers delivering inspiring and poignant remarks at the opening ceremony.
HR19 comes at a crucial moment in the development of drug policies across the globe. Many countries find themselves at a drug policy crossroads; do they pursue health and human rights-oriented approaches that reduce potential drug harms, or maintain policies of criminalisation and repression that have long-characterised the global drug war?
Here are four key points from the opening ceremony that highlight the need for a harm reductionist approach:
1. Failed drug policies continue to kill millions around the world.
Harm Reduction International's executive director, Naomi Burke-Shyne, began the opening ceremony by displaying a moving memorial to honour the lives of those lost to failed drug policies.
"The end of any life brings sadness," Burke-Shyne noted, "but when it is so unnecessary – these deaths are preventable, and caused by stigma and unjust drug laws – words cannot properly capture the heartbreak and anger".
Not only are these needless deaths widespread, impacting communities in every corner of the world, they are on the rise. The number of drug-related deaths worldwide soared by 60 per cent during the first 15 years of this century, with a staggering 450,000 such deaths in 2015 alone.
UN High Commissioner for Human Rights and former Chilean President, Michelle Bachelet, described to the audience how the drug war is "driven by the idea that crackdowns on people who use drugs – or who are involved in the trade of drugs – will make drug use go away", but that instead, "repressive policies have actually impeded" the development of approaches that could reduce drug-related harms and deaths.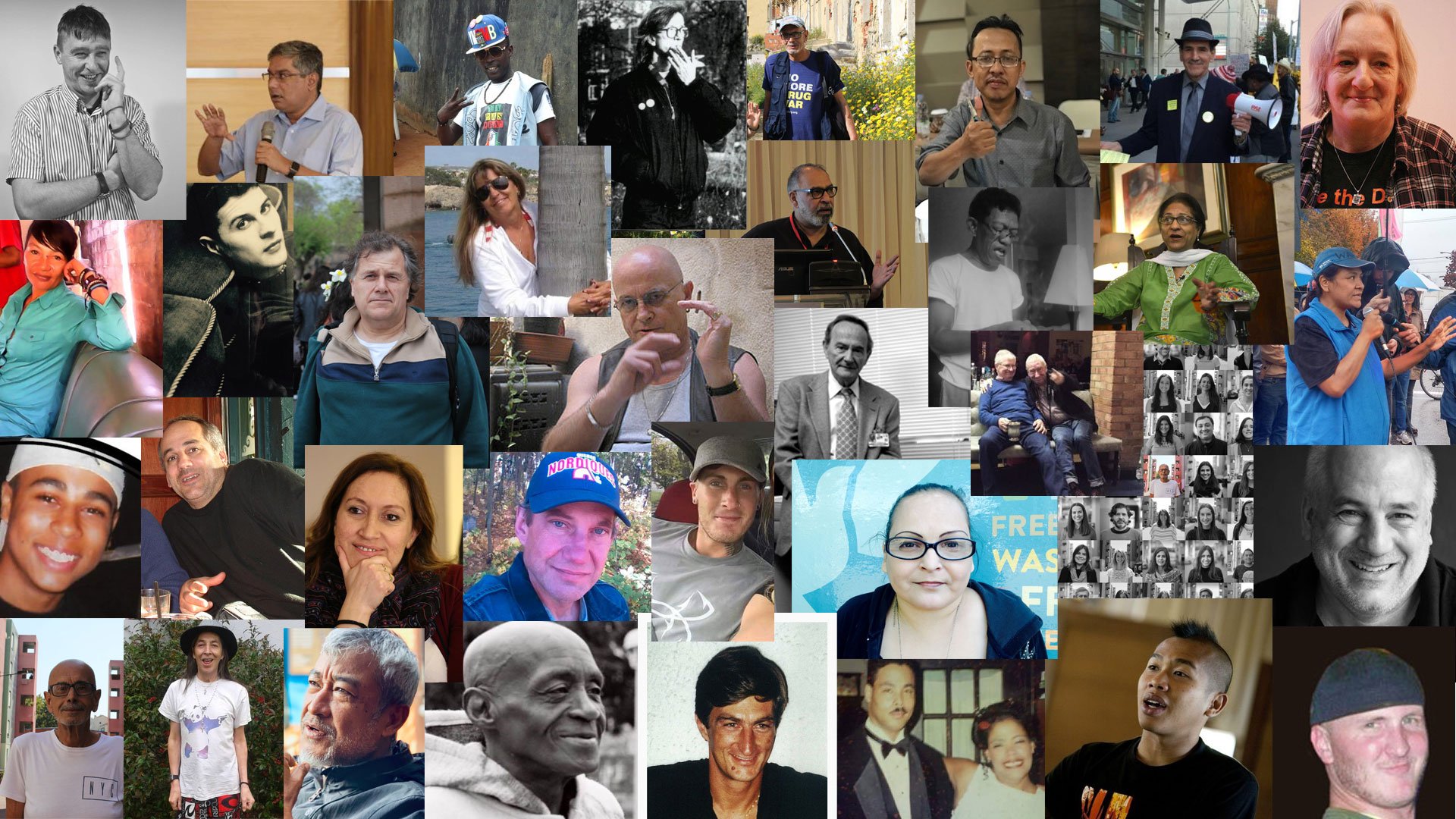 A memorial to activists and harm reduction pioneers who are no longer with us (HRI/Twitter)
2. Governments' complacency is fuelling drug harms.
"Globally, the availability of harm reduction services has stagnated and is failing to adapt to overdose deaths, new trends in drug use, and public health crises", Burke-Shyne described.
It doesn't need to be this way. Vital harm reduction services, like needle-syringe programmes (NSPs) and opioid substitution therapy (OST) have been proven to reduce risks associated with drug use, including overdose and the spread of infectious diseases. Yet the number of countries providing OST or NSPs is falling. Unsurprisingly, the incidence of HIV infection among people who inject drugs is rising – despite the broader global incidence of infection declining.
Crucially, continued stigmatisation and criminalisation mean that people who use drugs are often not treated with the respect they deserve. This highlights the most vital principle of harm reduction, as Burke-Shyne noted, "while harm reduction has evolved, its underpinnings have remained consistent –  dignity, health, and justice".

Harm Reduction International Conference 2019 in Porto, Portugal. Photo shows the Opening Ceremony. Photo ©Steve Forrest/HRI/Workers' Photos
3. Governments continue to commit egregious human rights abuses in the name of drug policy.
One in five inmates worldwide are incarcerated for drug offences - most of them for the possession of drugs for personal use, Bachelet described. As well as being a cruel punishment for people who have committed a victimless crime, the approach worsens outcomes for all of society as it is highly expensive and can increase crime.
In some countries, the consequences of drug use can be even worse than imprisonment. Perhaps the most notorious recent development in the global drug war has been the brutal extrajudicial killing of people for alleged involvement with drugs in the Philippines. Burke-Shyne criticised the governments of the US and Bangladesh for praising or seeking to "emulate this barbarity".
Harm Reduction International Conference 2019 in Porto, Portugal. Photo shows the Mayor of Porto Rui Moreira speaking at the Opening Ceremony. Photo ©Steve Forrest/HRI/Workers' Photos
4. Drug consumption rooms (DCRs) have arrived in Portugal! The country continues to serve as an important example of how countries can move forward in their drug policy.
In a surprising announcement, the mayor of Porto – Rui Moreir – told the ceremony that a mobile DCR will be established in the city, with support from Portugal's health ministry. A similar facility has also opened recently in Lisbon.
The introduction of progressive drug policy in Portugal is, of course, nothing new – as the country decriminalised all personal drug possession in 2001. It was a highly successful approach, as highlighted during the ceremony by former President of Portugal, Jorge Sampaio:
"The number of drug users decreased, the number of people going to voluntary treatment increased, [and …] the number of drug-related deaths has decreased."
MP Ricardo Baptista Leite shared his praise for the move, and noted that decriminalisation now enjoys both public and political support in the country. In 2001, he said, the prospect of decriminalisation divided parliamentarians. Now, almost two decades later, he hypothesised, "we would have unanimous support" if another vote were held today. Such is the success of the approach.
Former President Sampaio expressed cautious optimism about the future of Portuguese drug policy, and urged harm reductionists to be careful of complacency: "Successes are not timeless. What is innovative in the past […] has to be kept under close scrutiny and review".
---
The importance of HR19's conference theme - People Before Politics - was made crystal clear during the opening ceremony. Many countries are failing to put the value of people's lives ahead of their commitment to prohibitionist policies, but – as Portugal shows – there are plenty of reasons to remain positive, and for activists and policymakers to continue pushing for change.
Read HR19's full programme of events here.