Violent street gangs make alliances with drug cartels
Hispanic gangs that formed in the United States as a way of protecting themselves from racist attacks in the 1980s, are now playing a fundamental part in the drug trade. The gangs – which have expanded in number and territory - are now being employed by large drug trafficking organisations. They are now active in distributing narcotic drugs at a retail level as well as working as violent foot soldiers in the war to control the trafficking routes not only in the US but also throughout Latin America.
These gangs, which now have large followings in US cities, Phoenix, Los Angeles and El Paso, have spread to Latin America due to the policy of deporting suspected gang members to their country of origin. The majority of deported gang members have no real family support apart from their gang affiliations. This has caused the US street gangs to grow and prosper in Latin American countries as they take advantage of less adequate law enforcement and their geographical proximity to drug smuggling routes.
Members of these street gangs are merciless, many of them having grown up in the violent gang culture in impoverished US cities. These youngsters are some of the most vulnerable members of society; most are very young when they are recruited, come from very poor backgrounds and in many cases are addicted to drugs. They are treated as dispensable by the major drug cartels that have outsourced and now employ them to do their dirty work because it gives them an extra level of insulation from law enforcement.
One of the major street gangs that have integrated itself into the illicit drug trade is Los Aztecas or Barrio Azteca, a group founded by Mexicans living in Texas in the 1980s. They grew rapidly and expanded to the Mexican side of the border taking a foothold in the violent city of Ciudad Juarez. Los Aztecas now take orders from the Juarez Cartel and have been implicated in many recent assassinations linked to the drug trade. Many of the members consider themselves genuine Aztec warriors decorating themselves with tattoos of original Aztec symbols such as plumed serpents or the Aztec calendar. They also abide by a strict code that says that gang members must not consume "magic water" (heroin) because they might reveal secrets of the organisation and that they must not rob the people who live in the area that they control.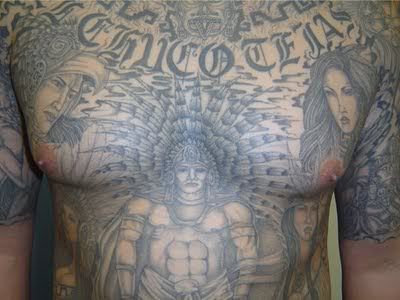 This new affiliation between the street gangs and the drugs cartels has lead to new levels of violence that have shocked even Ciudad Juarez's hardened residents mainly because of the age of the victims. In the border city drug rehabilitation centres – which in many cases are used by gang members as a refuge – are commonly raided by armed men who execute those inside, in the worst single incident last year 18 patients were killed. On another occasion gunmen entered a school end of term party and fired indiscriminately on the revellers inside because there were supposedly members of a rival gang present. There were 16 deaths in total; the youngest was a 13 year-old girl.
Street gang members are more likely to be incarcerated, especially as their tattoos and style of dress makes them stand. Los Aztecas now reportedly control 80% of the prisons in Ciudad Juarez. However once in prison they gain another use, they become enforcers of the internal drugs trade and are used to assassinate people affiliated with other cartels. Some of the worst outbreaks of prison violence last year in Mexico have been attributed to the three major street gangs. In one incident in Juarez prison, members of Los Aztecas overpowered guards and got access to the sector of the prison that housed rival gangs Los Mexicles and Los Artistas Asesinos who are linked to the Sinaloa cartel. They opened the cells one by one beating and stabbing the inmates inside. When they had finished 20 prisoners lay dead some of whom had been stabbed at least 50 times, others had been thrown from the second floor balconies. A similar incident happened the state of Durango where 24 inmates died. These outbreaks of violence have become commonplace in Mexican prisons and the families of inmates are used to the harrowing task of waiting outside the prison gates after each incident in order to see if their name is read out in the casualty list.
The influence of the drug trade has also broken down racial barriers within prison and street gangs as ethnic-based protection gangs have moved into the illicit drugs trade and now are motivated more by seeking profit than racial prejudice. Even prison gangs such as the Aryan Brotherhood – a white power group – are establishing ties with the Mexican drugs cartels.
Another vicious gang that has now expanded throughout Latin America is MS-13 or Mara Salvatrucha. Originally a gang of El Salvadorian immigrants fleeing civil war in the 1980's according to the FBI in the US alone they have between 6000 to 10000 members and operate in 42 states. Ironically some of the original members were trained by the US military to operate in deaths squads fighting against leftwing militias in El Salvador during the Cold War.
Their gang colour is blue – from the El Salvadorian flag – and members often decorate their bodies with distinctive tattoos identifying themselves as MS-13.  The gang is infamous for its brutality, kidnapping, raping and sometimes decapitating their victims.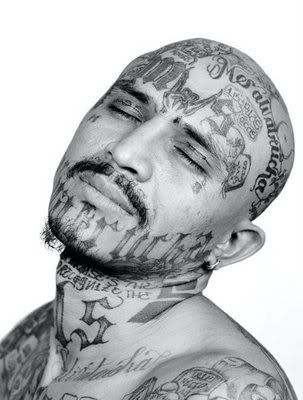 New members have to go through an initiation ritual, which for males is a severe beating, and for females is gang rape. People can also enter the gang by carrying out an extremely violent attack against an innocent individual, which can often end in death. Now the US policy of deporting MS-13 members is putting serious strains on the government in El Salvador, which lacks resources to address the problem.  The tiny country of 6 million people inhabitants has the highest murder rate in the Americas with 4365 homicides in 2009; a large percentage of those are related to MS-13. The prison system is also largely inadequate to deal with the influx of prisoner and in some jails 60% of the inmates have been deported from the US.
Although they have always engaged in illegal activity, as they have expanded into other Central American countries and Mexico they have become more affiliated with the drugs trade as well as specialising in robbing illegal immigrants on route to the US. Currently it is reported that MS-13 members have been contracted in Mexico by the Sinaloa cartel headed by Joaquin Guzman Loera or "El Chapo Guzman" who is fighting a brutal turf war against the Juarez Cartel in the north of the country.
The entry of these vicious street gangs into this lucrative trade puts the thought of a nearby end to the drug war further away than ever. These gangs of disaffected youths, brought up in a lifestyle of violence and neglect are now being financed by the some of the biggest profit earners on the continent.